Jean Pierre AVONTS-SAINT LAGER
PARIS
aaaaaaaaaaaa
asljp@wanadoo.fr
aaaaaaaaa
Facebook :
https://www.facebook.com/jeanpierre.avontssaintlager
_____________________________
aaaaaaaaa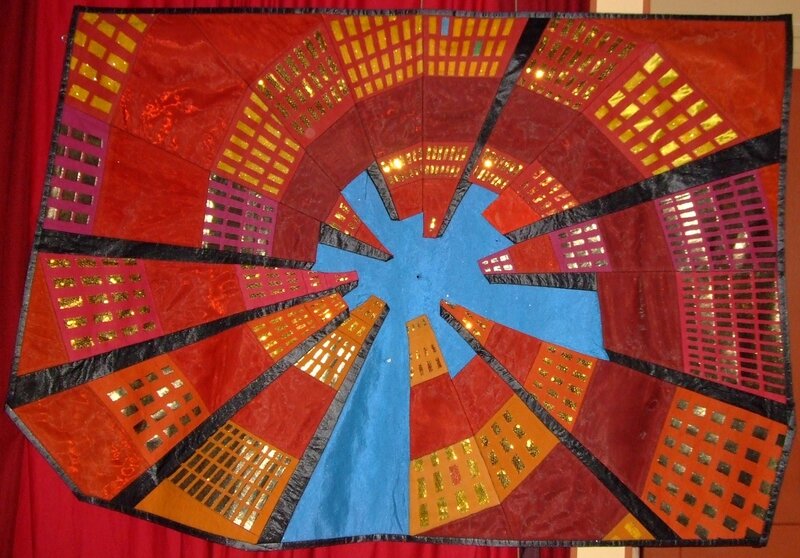 WALL STREET
Tissus - Fabrics
96 x 140 cm
aaaaaaaaa
Dernières expositions / Latest exhibitions :


HOUSTON (USA)
International Tactile Exhibition 2016
Du 3 au 6 novembre 2016
aaaaa
ALICANTE (Espagne)
ART AL VENT XIII
Exposition internationale d'art textile
106 participants de 22 pays
Du 12 août au 4 septembre 2016
aaaa
PARIS
Exposition de Tableaux Textiles
Galerie "Les 7 Parnassiens"
Du 1 au 27 août 2016
Art al Vent
L'exposició d'art tèxtil contemporani en l'exterior més important d'Espanya. Mostra d'obres penjades en els balcons.,La exposición de arte textil contemporáneo en el exterior más importante de España. Muestra de obras colgadas en los balcones.,The exhibition of contemporary textile art in the most important outside of Spain. Sample works hanging on the balconies.
http://www.artalvent.com
Expositions depuis 2006 / Exhibitions since 2006 :
CHICAGO (USA)
International Quilt Festival
Exposition internationale d'art textile
Du 7 au 9 avril 2016
KHERSON (Ukraine)
FIBERMEN 5
International fiber art exhibition
(dedicated to men in textile art)
Exposition internationale d'art textile
Du 22 octobre au 5 novembre 2015
http://scythiatextile.com/UK/Fibremen_2011-2015.html#grid
Reportage de la chaîne nationale Ukrainienne BTB :
https://www.youtube.com/watch?v=p0OgfO2tvOY
aaaaaaaaaaaaaaaa
HOUSTON (USA)
Tactile Architecture 2015 : International Quilts
24 octobre au 1 novembre 2015
aaaaaa
PARIS
Exposition d'Art Textile
Galerie "Les sept Parnassiens"
1 au 15 août 2015
aaaaaaaaaaaaaa
PARIS
Du 3 au 17 mars 2015
Galerie L'EXPO
5, rue Maurice Bouchor - 75014
aaaaaaaaaaaaaaaa
VELDHOVEN (Pays-Bas)
OEQC
(Open European Quilt Championships)
23 / 26 octobre 2014
http://www.textile-festivals.com/oeqc2014
aaaaaaaaaaaaaaaaaa
ONTARIO (Californie)
"ROAD TO CALIFORNIA"
20 au 26 janvier 2014
aaaaaaaaaaaaa
SAINTE-MARIE-aux-MINES (68160)
Invité au 19e Carrefour Européen du patchwork
12 au 15 septembre 2013
www.patchwork-europe.com
http://s.joomeo.com/524057e4b695f
aaaaaaaaaaaaa
BRIANCON (05100)
Exposition sur le thème : "Le vert dans tous ses états"
8 au 11 mai 2013
aaaaaaaaaaaaa
KHERSON (Ukraine)
Exposition internationale d'art textile "JEUX D'ETOFFES
International fibre art exhibition
24 octobre au 3 novembre2012
FIBREMEN
eeeeeeeeeeeeeeeeeee
SAINT-JUNIEN (87200)
Exposition sur le thème : "Contes, fables et légendes"
20 au 28 octobre 2012
e
ANIANE (34150)
Exposition "JEUX D'ETOFFES
10 juin au 8 juillet 2012
aaaaaaaaaaaa
KHERSON (Ukraine)
SCYTHIA 2012
du 19 au 24 juin 2012
9ème Biennale Internationale
d'Art Textile Contemporain
Ninth International Biennial on
Contemporary Textile Art
aaaaaaaaaaaaaa
KHERSON (Ukraine)
du 18 au 29 octobre 2011 mars 2011
Exposition internationale d'Art Textile
FIBREMEN
aaaaaaaaaaaaa
RILHAC RANCON (87570)
28, 29, 30 octobre 2011 mars 2011
Exposition d'art textile
aaaaaaaaaaaaaaaa
LA ROQUETTE-sur-SIAGNE (06550)
1 au 31 mars 2011
aaaaaaaaaa
MORZINE (74110)
Concours International "L'ART DU QUILT"
1 au 4 juillet 2010
aaaaaaaaaaa
ANIANE (34150)
JEUX D'ETOFFES
11 juin au 11 juillet 2010
aaaaaaaaaaaaaaaaaa
SAINTE-MARIE-aux-MINES (68160)
15e CARREFOUR EUROPEEN DU PATCHWORK
17 au 20 septembre 2009
aaaaaaaaaaaaaaaaaaaaa
DORTMUND (Allemagne)
13 au 16 mai 2010
aaaaaaaaaaaaaaaaa
LAURIS (84360)
30 avril au 2 mai2010
aaaaaaaaaaaaa
SITGES (Espagne)
11 au 14 mars 2010
FESTIVAL INTERNATIONAL DE PATCHWORK
aaaaaaaaaaaaaa
RIJSWIJK (Pays-Bas)
12 au 14 février2010
PATCHWORK & QUILTDAGEN
aaaaaaaaaaaaaaa
BUDAPEST (Hongrie)
5 au 8 novembre 2009
HUNGARIAN PATCHWORK GUILD
aaaaaaaaaaaaaa
MILAN (Italie)
16 au 18 octobre 2009
HOBBY SHOW MILANO - 14e Edizione
aaaaaaaaaaaaaaa
PARIS (75007) :
Espace FRANCE PATCHWORK
1 au 29 mars 2010
aaaaaaaaaaaaaaa
SAINT-JEAN-de-LUZ (64500)
7e BIENNALE D'ART TEXTILE
14 au 17 mai 2009
aaaaaaaaaaaaaaaV
LA RAVOIRE (73490)
LA FLEUR DANS TOUS SES ETATS
20 au 29 mars 2009
aaaaaaaaaaaaaaaV
BOSSAY-sur-CLAISE (37290)
LES BOSSEALES 2008
8 au 11 novembre 2008
aaaaaaaaaaaaaaaV
MORZINE (74110)
Concours International "L'ART DU QUILT"
3 au 6 juillet 2008
aaaaaaaaaaaaaaaV
VAUX-sur-MER (17640)
QUILT EN VAUX
21 juin au 6 juillet 2008
aaaaaaaaaaaaaaaV
ANIANE (34150)
JEUX D'ETOFFES
13 au 6 juillet 2008
aaaaaaaaaaaaaaaaaa
PARIS (75004)
Galerie "CARRE MAISON"
juillet 2006
----------------------------------------
aaaaaaaaaaa
Mon histoire textile / my textile story :
Après un parcours consacré à l'écriture, à la création
et à la conception de vêtements, de costumes,
d'accessoires et de décors de théâtre
(Leeds, Londres, Lyon, New York, Miami, Paris…)
je réalise mes Tableaux Textiles depuis 2005.
C'est Naomi Ichikawa, rédactrice
en chef du magazine Japonais « Patchwork Quilt Tsushin »
qui remarqua mon travail en 2006 et lui consacra un article en août 2007.
Je puise mon inspiration
dans les mystères humains
universels et intemporels que sont
la mort, la solitude, le plaisir et la fuite du temps.
-------------------------------------
I have dedicated my professionnal life
to writing plays, creating and making clothes, costumes,
accessories and theater settings
(Lyon, Paris, London, Leeds, New York, Miami...).
I have been making quilts since 2005.
The first article about my work was written by Naomi Ichikawa,
managing director of the Japanese magazine
"Patchwork Quilt Tsushin" (number 139, August 2007).
Though I sometimes use different materials
(metal, glass, leather, paper, plastic...)
most of my work is made of textile.
I am trying to explore
the infinite varieties of textures, colors and
transparencies
just as others would use painting, wood or stone
to make their intimate world come to life.
I am very interested in the nature
of human beings and take
all my inspirations from
the universal and timeless mysteries
such as death, solitude, love and vanishing time.
----------------------------------------------------------------------------------------------

/media/jean-pierre/My Passport/A ART AL VENT XIII/ART_AL_VENT_XIII_baixa_res_pag_eVBvya4.pdf